Caledonian FIRETOX Cables

CABLE CONSTRUCTION
FIRETOX cables are constructed in the following typical design:
1. Solid/stranded annealed copper conductor
2. XLPE/LSZH as insulation
4. LSZH/flame retardant LSFROH as sheath
FIRETOX cables are offered in either single core, multicore or multi-pair constructions.
The insulation material can be thermosetting (XLPE, LSZH) or thermoplastic (EVA, LSZH) to meet different stringent environment requirement. The cables may be armoured or braided, with or without metallic screen, depending on different applications.

INTERNATIONAL STANDARD
The FIRETOX cables manufactured by Caledonian comply with either one or combination of the following standards.
IEC 60332-1
IEC 60332-3C
IEC 61034-1/2
IEC 60754-1
PRODUCTS
Fire Retardant PVC Sheathed Cables (FIRETOX)
Flame Retardant Optic Fiber Cables
Flame Retardant Multi Loose Tube Fiber Optic cables
Application
The multi loose tube non metallic cables are designed for outside plant, which is prone to electrical
interference. They are mainly installed inside buildings, tunnels,subways or closed areas in general,
specially designed to guarantee the signal transmission even in case of fire. The cable can also be
used for direct burial for armoured version.
STANDARDS
Basic design adapted to Telcordia GR-20 / RUS 7 CFR 1755.900 (REA PE-90) / ICEA S 87-640
CABLE CONSTRUCTION
Fibers: Singlemode and multimode fibers, with loose tube technology.
Structure: The cable consists of 5 to 36 fibers containing tubes or fillers stranded in up to 3 layers around a central strength member and bound under a LSZH sheath. Each tube contains 4 -12 fibers, which is filled with water blocking gel.
Central Strength Member: Solid or stranded steel wire coated with polyethylene is usually used as central strength member. Fiber glass reinforced plastics (FRP) will be used as central strength member if non metallic construction is required.
Water Blocking: The jelly filled tube is waterblocked by using swellable tape and thread.
Reinforcement: Either aramid yarn or fiber glass is wound around the tube to provide physical
protection and tensile strength, with added fire protection.
Inner Sheath (optional): The cable can be jacketed with either PE or Thermoplastic LSZH inner sheath. PE is the preferred option in outdoor environment for water protection purpose.
Armouring(optional): For diect burial, either galvanized steel wire braid, corrugated steel tape armour or galvanized steel wire armour is applied over an inner polyethylene or LSZH sheath. For steel tape armour, the 0.15mm thick steel tape is coated with a copolymer and applied with an overlap. For steel wire braid or armour, single layer of galvanized steel wire braid or armour is applied.
Moisture Barrier Tape (optional): An aluminum moisture tape can be incorporated under the sheath for water blocking and shielding purpose.
Ripcord (optional): An optional ripcord can be located under the jacket to facilitate jacket removal. Outer Sheath: Thermoplastic LSZH compound type LTS3 as per BS 7655-6.1(Thermosetting LSZH compound type SW2-SW4 as per BS 7655-2.6 can be offered.). UV resistance, hydrocarbon resistance, oil resistance, anti rodent and anti termite properties can be offered as option.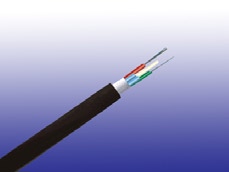 Download details in PDF